Draw Yourself a Map
Not long after I moved to Los Angeles in 2014, I decided I'd better buy a map of the city. It wasn't for driving directions — I had my phone for that. It wasn't even a safety precaution, in case my phone's battery died or something. No, I just wanted to get a better sense of the place, and I thought studying a map would help. I'd known the rough map of Chicago's streets quite well, absorbed over countless bus rides from 59th Street to the Loop, or El rides from Garfield to Sheffield. Now I was in a new city and ready to have this one memorized just as well.
A couple things: a paper map of metro Los Angeles was challenging to track down in the first place, even back in 2014. And once I finally found one (that was actually of streets, and not hiking trails or weekend getaways) the futility of my plan was immediately apparent. For starters, what LA was I even looking for? Los Angeles County, in all its sprawling vastness? The "Eastside" where I lived (which I could now see was not really even the East side at all but more like the middle)? Maybe just the swathe I cut as a drove west through "Midcity," toward Beverly Hills, which is not in LA (but is in LA County, and when you drive through it you're back in LA again).
I never did buy that map. I hoped I'd learn it on my own, in time. Or at least some of it.
---
Before the spring of 2020, I was driving eight miles down Beverly Boulevard and back five days a week. On my commute, I'd stop at grocery stores or coffee shops on 3rd Street or Melrose or Santa Monica. My friends seemed to live in West Hollywood, or Hollywood, or Westwood (which are three entirely different places). Sure enough, the map in my head gradually grew to include these sections.
During the "shelter in place" chapter of the pandemic, I came to interpret that edict as "don't drive anywhere." So I walked. I walked the hills of my neighborhood over and over again, desperate for a route I hadn't tried before. The first time I had cause to drive back to Beverly Hills, it now felt very far away.
Since then, many of the friends I'd visit in those previously-mentioned neighborhoods have moved — to foreign countries, to "back home," to the Valley. For several months, a new job took me regularly to Marina del Rey, then for several months to Burbank. Now, when I'm not working from home, my office oversees MacArthur Park, not far from downtown. New chapters mean new routines mean new mental maps.
I didn't notice just how much things had changed until the past few weeks. Somehow, it now seems that all my social invitations are taking me to parts of town I'd rarely visited before, even though they're not far from my neighborhood. The hosts come from all chapters of my life, and yet the locations have all been within a 5 mile radius of each other. It's hard not to feel like that 5 mile radius represents a new chapter in my own life — one I didn't even know I'd entered.
---
Flipping through Instagram last week, I stopped on an Emily Dickinson line, shocked by how loudly it spoke to me.
"I am out with lanterns, looking for myself," it read.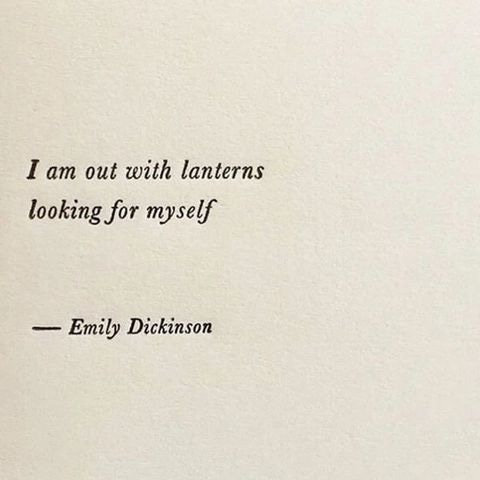 I know. It sounds like something a goth teen would choose as her yearbook quote. And really, I've never been the kind of person who stares out across the sea asking "who am I?" I stare out across the sea with a strong sense of myself. And yet…I saw these words and felt them in my weary bones.
The quote is, of course, all over the Internet. But it's not from a poem. It's a clever, self-deprecating remark from one of Dickinson's letters. In the original letter, the sentence that follows the quoted line spoke to me just as forcefully:
"Such wits as I recovered are so badly shattered that repair is useless — and still I can't help laughing at my own catastrophe."
Sing it, sister.
I have spent the vast majority of the past two years in the same room, while around me, all the details of my life change. Internally, I've had to change too. I had to become the kind of person who could spend most of her time in the same room. The kind of person who could accept "new walk route" as a suitable day's adventure. Now, sometimes, when I'm out living my new life — which is currently full in ways I've longed for, even as the world remains a too-hostile environment — I feel unfamiliar to myself.
Some good news, though: I have left myself lots of little maps. They're right here in this stupid, lovely room with me. Notebooks full of musings, little plans and lists I once made for myself. Voice memos I recorded when I needed a pep talk. I even have my trusty line-a-day journal, which used to be such a ritual for me. It's been sitting on my desk, just to the right of my mousepad, since January. But it had become invisible to me until a few days ago, when I turned my lantern to it and remembered that it was something past-me used to help make sense of her days. This new me can use it too.
I still drive to Beverly Hills twice a week, for choir and church. I could give you directions to Pasadena or the Palisades. I like to drive downtown without getting on the freeway. Those roads are all connected, and learning a new route — by foot or by car — doesn't mean the old ones are closed off to me. Thank God.
This weekend I found myself in Chinatown for possibly the first time ever. How had I never been to Chinatown? It's so close! I was attending a party for a friend I met maybe six years ago, but didn't become close with until last year. At the party, I saw friends from grad school that I hadn't seen since before the pandemic, and a friend from Chicago who moved to LA in 2020, and became my neighbor just a few months back. The roads are all connected, even if they twist and turn across a map that's sprawling and hard to source.
I drove home from Chinatown without consulting a map. I knew enough to get myself back.